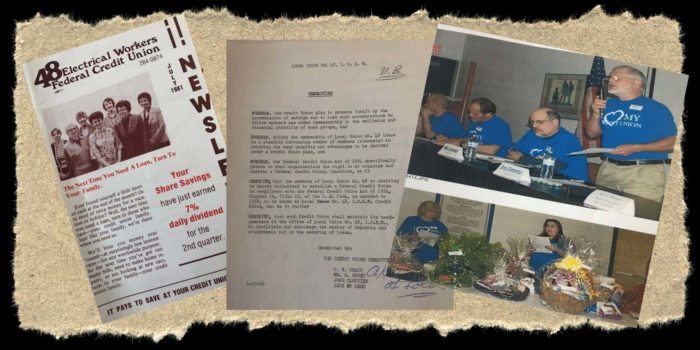 It all started in 1954.
The idea to form a Credit Union was initiated in 1954 at an IBEW Local 48 union meeting by member Chester Craig. Chester was a member of another Credit Union at the time, but believed that members in the electrical trade would benefit by having their own Credit Union as well. We've been told that Chester would bring up the idea at meetings and during these announcements he was ignored.
Sitting in the union meeting was another member by the name of John (Jack) McLeod. John was a Business Rep. at Local 48 and didn't find Chester's information viable therefore he too did not listen.
For some reason though, John decided to look into what a Credit Union was. Intrigued by what he was to find, John called Chester to talk about it in more detail. Through determination and support of each other, the idea to form a Credit Union was submitted to the Union Board of Directors of Local 48.
With the "buy-in" from the Board, documents were drawn up to incorporate the "Electrical Workers Local 48" Federal Credit Union on April 26, 1954. The final approval was received back from NCUA on May 7, 1954. The next step was to build the foundation of the Credit Union. This would take about $500.00 (yes, just $500.00) in deposits from the members to provide working capital.
Chester, John and H.H. (Hud) Harrison (Business Manager) gave their presentation at the next union meeting. At this time a form was printed with those members that had already committed a deposit to the Credit Union. The advantages and benefits of the Credit Union were explained to the membership in attendance and asked that whoever was interested in participating to sign their name and mark their amount of deposit on the form as well.
The idea of the Credit Union took off from there. A couple years later when the Credit Union had over $5,000.00 in working capital the Credit Union made its first loan.
With determination, belief and 66 years passing, IBEW & United Workers Federal Credit Union has become and remains a vibrant and thriving institution. Here to serve many different union members and their families. The philosophy of "people helping people" that was intended then remains alive today.
The information contained herein was shared with the Credit Union by member John McLeod in 1999 for our 45th Annual Meeting.
There were many people involved in the beginning but special thanks go to:
Chester Craig – for without determination, belief and persistence we might not be here today.
John McLeod – for being curious enough to find out what a Credit Union was, he bought the idea and prepared the documents to incorporate and bring to life "Your" Credit Union.
To Chester and John, and all the other "founding fathers",
We Thank You.
Mission Statement
To meet anticipated financial needs by providing convenient, quality, affordable products and services to union members and their families so that we can build long term relationships.
Vision Statement
"Your preferred Financial Institition… Exceeding Member's Needs and Wants by Continuously Earning Their Trust"
Philosophy and Structure
Credit unions are financial cooperatives, democratically owned and controlled based on the "People Helping People" principles.